Most people like to live a full life, rich with interesting experiences and moments. That is why the entertainment niche is important and popular. Everyone wants to enjoy emotions properly and keep in memory these fantastic impressions. All this has led to the development of this industry and different festival suppliers. As the market is full of them, you need to make sure there is some room for you. Besides, it is worth checking if you have a unique offer enough to attract new clients and take leading positions in the competition. The smartest approach to realize this task is to create a stunning website using a gorgeous and fantastic template. For that, you need to determine which website builder for events will suit your needs and taste. This article will help you get acquainted with different themes and find out the best one for your business.
Reasons Why You Need Website Builder for Events
In the world of developing technologies, it is essential to move with the times. Today almost every business has a web presence that helps achieve many purposes. And some of these companies have gained overwhelming success since they have presented themselves in the online space. Why not follow their example? The opportunities of websites are difficult to overestimate because they can increase a business to a new level of success. You can achieve almost all your goals by creating a professional web presence. That is why you should have a clear understanding of why you should do it. Among them are:
Introduce yourself in the online space.
Spread details about your offer.
Promote organizational services.
Announce the next celebrations, exhibitions, and parties.
Attract new clients and visitors.
Increase popularity and brand recognition.
Boost profit.
Highlight benefits and advantages.
Consolidate positions in the digital market.
Stand out from competitors and more.
This list can be long, but you already may agree with the importance of using a web presence for your business to grow. However, you may be worried about the site creation process because you heard about other companies' experiences that it is time-consuming and quite expensive. Now you will ensure that it is not entirely true.
Advantages of Website Builder for Events
Some companies hire a web developer to build a website. This decision is quite money-consuming and requires time for realization. For this reason, many businessmen prefer using ready-made templates that are easy and quick to customize according to their requirements. By doing so, there is no need for additional help, which saves money that you can spend on company development. It is essential to mention that you don't need to have technical skills or a programming background to use almost any ready-made template. Everything is plain as a day. Thus, such solutions are convenient for creating an online presence without much effort and getting high-quality and professional-looking results. 
Apart from anything else, these digital assets come with various features that aim to make an introduction to the Internet functional, user-friendly, and impressive. Most of them are responsive that allows your viewers to employ any device, from smartphone to PC. And the content displays perfectly on all of them. Almost all digital assets are SEO-friendly, which increases the rating of the site in the search engines and makes it visible to a wide audience. It leads to boosting the number of new clients and popularity. You will find out about other features of the particular platforms in this article.
Who Can Use Website Builder for Events
This niche is full of various activities of any taste. It is not surprising because some like active pastimes and bright emotions, while some prefer spiritual moments and relaxing rest. For that reason, the market offer has grown up significantly to satisfy all this demand. Thus, considering the variety of companies in the entertainment industry, this collection has solutions suitable for any of them, particularly:
conferences;
meetups and seminars;
concerts;
sports matches;
festivals and gigs;
amusement parks;
cinemas, theaters, and museums;
exhibitions and art galleries;
nightclubs;
circus;
celebration planners, and more.
Best Website Builder for Events
The digital assets for building a site are various, allowing everyone to pick up the one that will fit the business idea. To choose the best theme for your project, you must determine specific requirements and needs. Having a clear picture of what you want to see on your pages will accelerate the selection process and not be mistaken.
For example, the site's visual look of the nightclub and museum will completely differ. It would be best to consider the atmosphere of the web presence you want to make and what feelings it must cause in people's hearts. It is important to take into account that online projects of the entertainment niche imply bright colors, impressive visuals, and eye-catching content structure. Following these specificity affects your company's success and helps to achieve purposes. So, it is time to learn more about what opportunities each platform offers and determine which one suits you the most.
WordPress is a flexible content management system with ready-made layouts and plugins, where Elementor is one of them. This advanced page-building plugin opens you wide opportunities for working easily and quickly with high-quality products in the end. Elementor provides a complete set of elements to modify the site's visual look and content. Various stunning designs were developed according to the latest trends in the digital world to let you highlight the benefits of your business. A well-structured content organization contains thousands of pre-made blocks where you place your information. Meanwhile, you can view all changes in real-time in the site interface. Moreover, Elementor has drag-and-drop features, editing from the mobile device, page preview, history of changes, and other fantastic functions. It is time to view some products with this plugin suitable for your niche.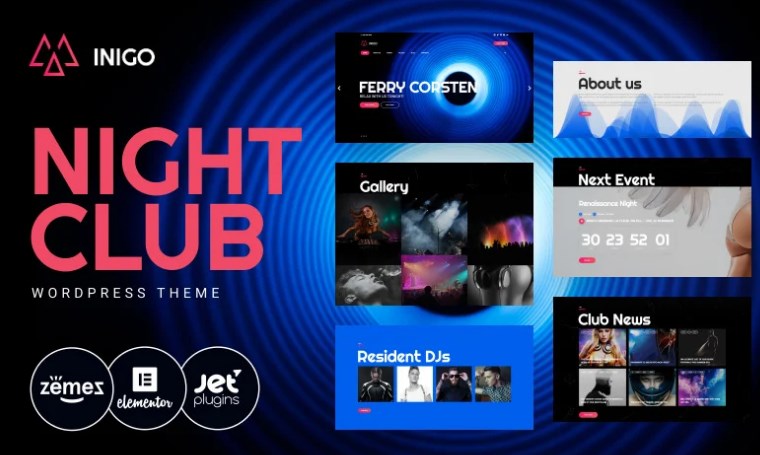 Meet a creative solution for the entertainment industry named Inigo. It is modern and innovative, capable of reflecting the party's atmosphere directly on the web pages. Various animated banners, visuals, and text blocks will make the design impressive and beckoning. The countdown timer widget will help you inform visitors about future concerts and invite them to join your world of the party.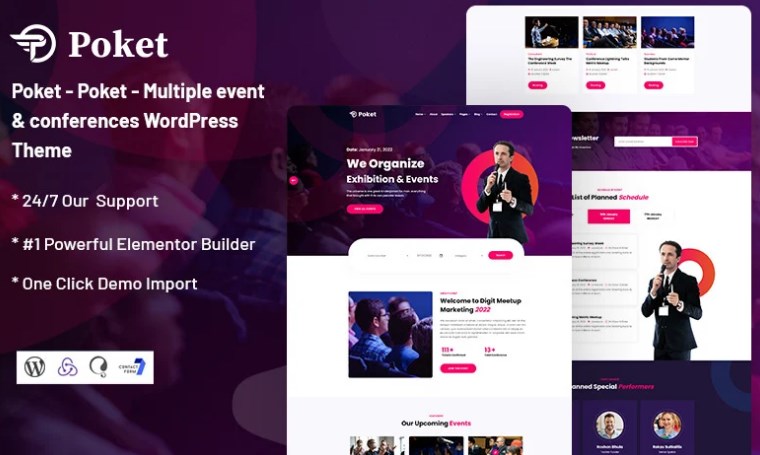 This solution is very decent for companies who plan meetings, seminars, conferences, or business sessions. An appropriate color palette combined with a concise content structure gives viewers a full understanding of upcoming conferences and sets the mood for a meeting. The possibility of customizing ticket booking buttons increases the chances that people will buy it and come. You can also make a schedule for the next sessions and write more about what topics will be outlined.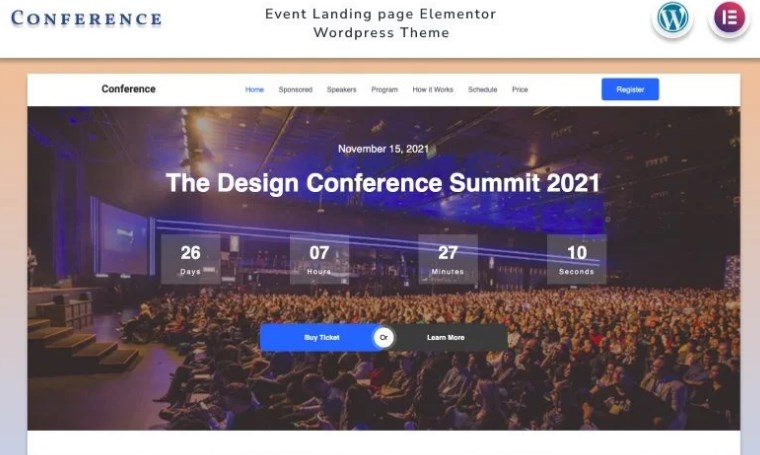 This landing page template is a great decision to place all information about the meeting in a clear sequence in one place. As with any other WordPress theme, it is adapted to all devices and compatible with all browsers. One more advantage is the fast loading speed so that your viewers will not wait too long to see all content. Beyond everything else, scrolling animation effects and Google fonts are at your disposal. You will also benefit from the various content blocks, such as video, schedule, speaker, pricing, list, and testimonials. If you want to get a detailed guide on building a successful landing page with Elementor, click here.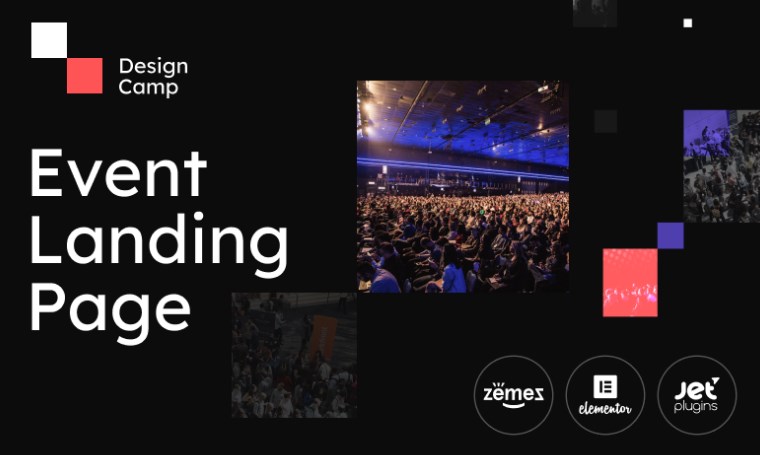 If you want to spread information about the meeting or webinar and engage more people to join your team, DesignCamp is your perfect match. No one will miss any essential data because all content is placed in a thought-through sequence. The combination of black, red, white, and purple colors catches visitors' eyes and makes your web project look stylish. Moreover, your landing page will be user-friendly due to such buttons as Register now to reserve the place or Become a sponsor to support your idea. Scrolling down, people will see speakers' photos, names, and achievements. You can also add animated numbers to show how many participants have joined you yet.
Novi is an innovative visual HTML page builder. It lets you quickly assemble pages from pre-made blocks and visually modify their content. There is a Page Manager that allows you to create, delete, edit, and manage your project's settings. It saves your time on site creation, making this process easier. Meanwhile, this platform contains different modes for doing various tasks that provide a clear understanding of how to customize this or that element. More tools for speeding up your work are developer instruments, such as HTML, CSS, and JS editors. You get a complete range of opportunities to create the desired web presence using them.
One more advantage of Novi is that you can keep your site up-to-date using the instant publication of your project directly to the server. If you want to learn more about this builder, you can read this article. So, we deal with the most important advantages of this solution, and now is the best moment to view one of Novi's offers.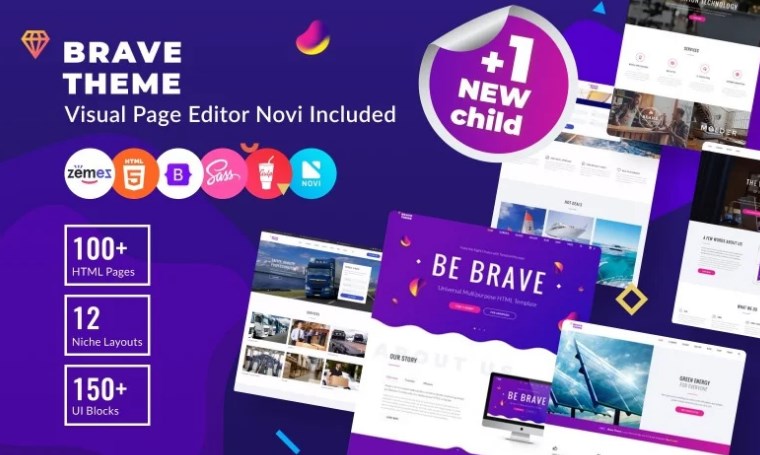 Meet a great multipurpose HTML template that you can use for informational and promotions reasons. It can be a web presence of a theater, museum, cinema, or any other company that wants to announce the next occasion and attract as many visitors as possible. You will benefit from its various customization functionality, including buttons, progress bars, tabs, and more. A rich set of sections for content is also useful that can help you present your business professionally and completely. It is impossible not to notice a thought-though content structure and stunning template design that highlight all benefits and advantages. Thus, by choosing this theme, you stand out from others and achieve your goals successfully.
Among the variety of plugins for WordPress, it is essential to pay attention to the WPBakery page builder, which lets you create awesome content with easy drag and drop. This plugin offers all the controls you may need to work with elements – edit, add, duplicate, or remove whenever you want with a single click. An embedded smart Role Manager allows you to control access and options available to various user roles. Moreover, when you own a license, you can be sure that you receive all updates for a lifetime and don't pay any additional fee. Thus, you control your WordPress site layout completely and have a stunning and high-quality online presence for your entertainment business.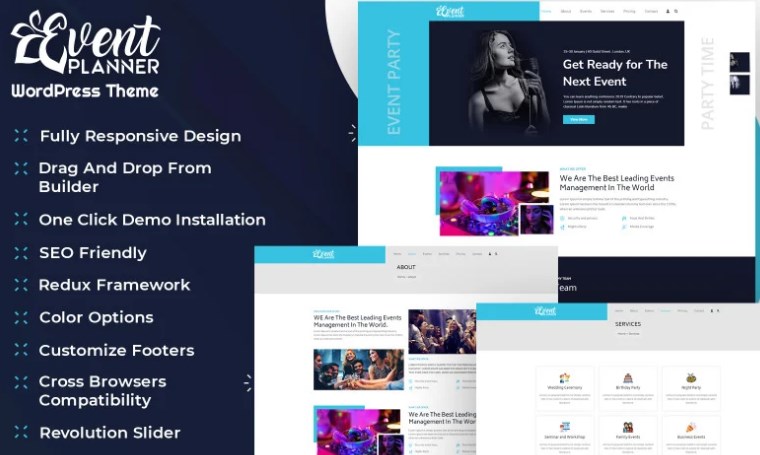 Take a look at this gorgeous product. A stylish and modern design catches eyes immediately. It suits all celebration planners, from party home decorating firms and wedding organization services to organizers bureau of special moments such as anniversaries, birthdays, etc. When people open your site, they will be transferred to an atmosphere of celebration, happiness, and joy. And they will understand from the first seconds what you provide and what experience they will get from referring to you. Thus, using this template, you get a simple and quick site creation process and get a result that even exceeds expectations.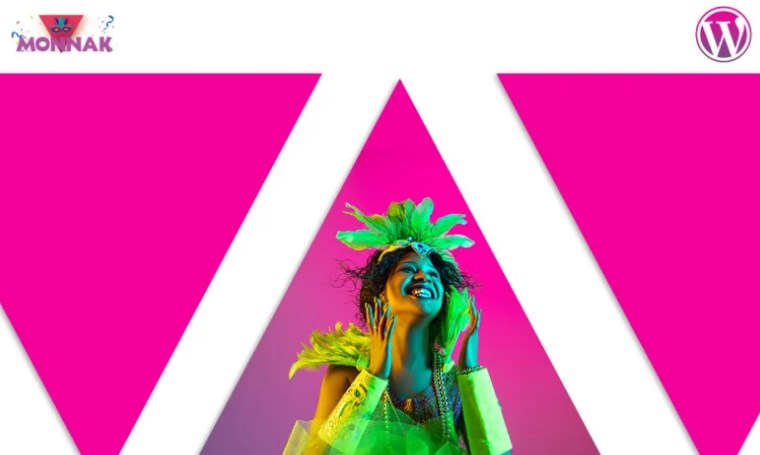 If you provide organizational services, you need to showcase your skills and latest projects to new and potential clients. Monnak is a perfect solution to realize this task. This design has a captivating visual look and vivid color scheme to highlight your experience and best works. Fill the gallery with your photos to let customers enjoy your creations and wish to have the same stunning celebration. By doing it, you also rank your pages on the search engines that increase the popularity of your company. So, you can be sure, that creating a site using Monnak brings you numerous new orders that will make the queue for months ahead.
Everyone, who wants to go their business online efficiently and fast, should consider using these MotoCMS templates. They come with superior functionality and a high-end control panel. This tool will not give you issues or difficulties during customization because it has drag-and-drop nature. Being intuitive and simple to use, this control panel doesn't require having technical skills. So, you will not feel confused and enjoy a well-structured and pleasant workflow. Beyond everything else, these templates are responsive, have numerous widgets, SEO tools, a free trial period, and proper support. Thus, you get an enjoyable site creation process lacking headaches and an incredible result that leads your business to a new level of success.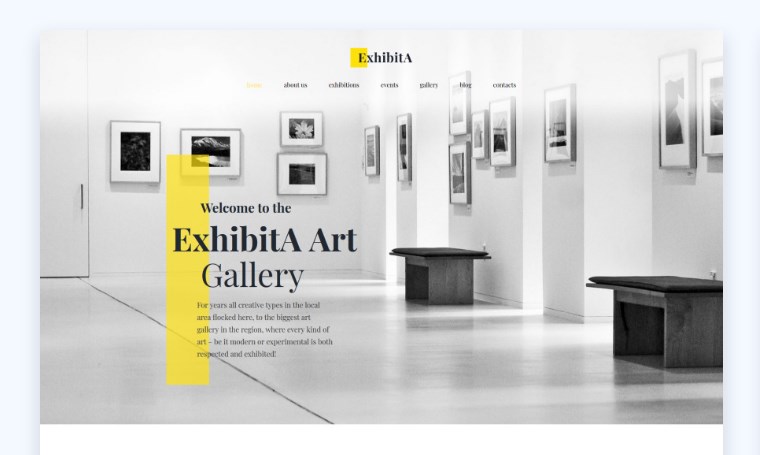 Beauty and art attract many people worldwide. That is why they like going to art galleries to enjoy exhibitions and get inspired. If you are an artist or gallery owner, you should spread information about the time and place of the next show on the Internet. And ExhibitA is a perfect tool for doing it impressively and nicely. This product contains everything for creating a wonderful online presence for promoting your show and reflecting the magic of art. Everybody who sees it becomes wishing to visit your place and get pleasant emotions
People who like going to nightclubs expect bright feelings and enjoy the time. If you own a nightclub, you should create such an atmosphere on your web pages to showcase to the audience that they will gain what they want. This template fits dealing with this task the most. Violet and black colors highlight the mesmerizing design and attract everyone who admires nightlife. You can add photos of your dancing hall, restaurant, and drinks to give them the full picture of what they will receive. And, of course, a well-organized structure allows you to place information about the next parties impressively.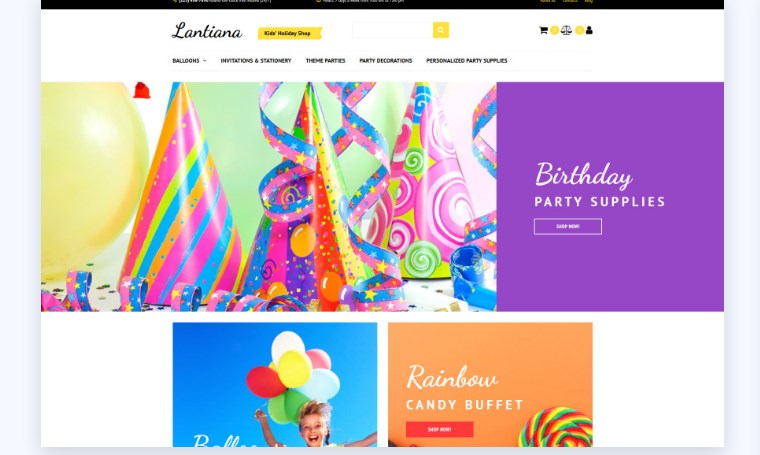 There is no celebration without decorations and attributes. That is why, if you are planning to open an online shop for selling celebration supplies, it is time. Using this bright and modern theme, you get a powerful web store with a rainbow-colored visual look. Big images on the homepage encourage viewers to explore the categories of your products. Smooth animation adds to the positive impression created by your online shop. You can showcase balloons, candles, candies, birthday paper flags, boxes, and other items attractively so that everybody will want to purchase them. As a result, you increase the popularity of your business, boost sales and profit.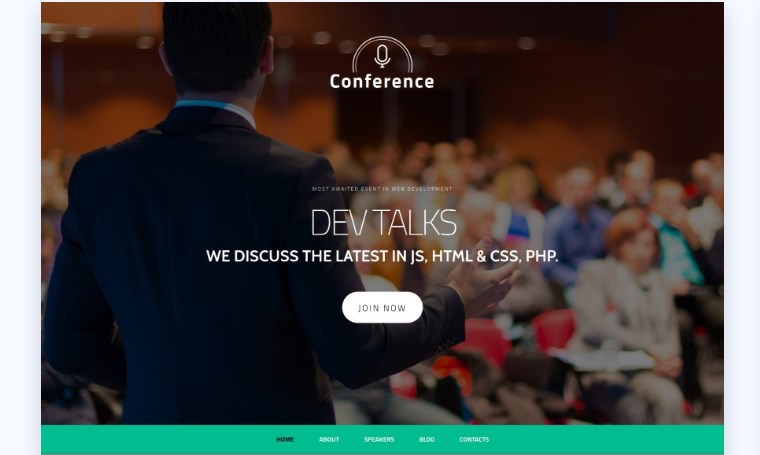 Conferences can affect business success significantly, so you need to promote them on the Internet professionally. This design helps you achieve this purpose and present your meeting on a high level. Various tools and widgets let you introduce the pros of your occasion, its speakers, schedule, and other details. You may also write articles in a blog right via the admin panel, which involves the audience in your ideas. In addition, the gallery serves as a visual element for showing people what atmosphere they will get. So, you may add high-quality photos of the conference place and your personal ones.
Another Website Builders for Events
The global digital market is full of various platforms, and each of them has its pros and cons. You may have heard about Weblium, Wix, Squarespace, and others. Their collections catch users' eyes and encourage them to try using one of the layouts. Some platforms require you to register and pay before using a design and charge each month. Some need only one fee to access the collection and all updates. Speaking of the simplicity of customizing the layout, these platforms also differ. For example, Wix is user-friendly and doesn't take much time to figure out its basic functions. Meanwhile, Welbium works somewhat different because it is AI-powered. So, while selecting a layout, you need to build on your requirements and needs, weighing all pros and cons.
Final Words
As you can see, you have a wide selection of solutions for creating an online presence by yourself without hiring a web developer. And now you know about all opportunities, features, and benefits of all these types of digital assets. You can pick up the template according to your taste, needs, requirements, business idea, etc. Developers have already made everything for you, so you don't need to build from scratch. As a result, you get a stunning web project for promoting exhibitions, conferences, theaters, amusement parks, or any other occasion. If you organize such holidays, you will successfully spread information about your services and work approach on the global web. Whatever activity you have, you will find a perfect match for introducing yourself online.
Latest UI Design Trends of Website Builder for Events Video
Watch this video to get inspired by the latest UI design trends and pick up some ideas for your project. 3D illustrations, real-life pictures, vivid colors, sophisticated typography, and other tricks will improve your web presence and make it memorable. Impress visitors with a stunning site's visual look and attract more clients with TemplateMonster!
Website Builder for Events FAQ
Can I try using free themes of website builders for festivals?
Yes, you can try free items, but please consider they don't have enough components, features, uniqueness, and support for making high-quality multifunctional sites. These solutions fit small or personal projects. However, if you need a powerful and professional web presence, it is better to choose premium assets.
Why do most website builders for festivals have an admin panel?
Not every businessman has technical skills. That is why digital assets with an admin panel are perfect for them. This tool allows you to customize the layout without a programming or web development background. An admin panel is intuitive, so it is not difficult to understand how to employ it. You change, move, add, and remove design elements the way you need.
Where can I get support if I have issues with festival website designs?
TemplateMonster provides live chat available round the clock for giving support. You can refer anytime you want by writing a question or description of your issue. Specialists will provide you with feedback as quickly as possible to help you solve an encountered problem.
Do website builders for celebration planners have instructions for editing?
As a rule, yes. Each asset comes with detailed documentation with various instructions, tips, and guides for customizing the layout. By following them, you avoid almost all possible issues. Moreover, TemplateMonster also has a help center, where you may find helpful information and answers to most of your possible questions.