When organizing any business activity, each director not only builds the architecture of the project but looks into the future. Creating a project is an important and sometimes difficult step, but its development is no less meticulous. In recent years, there has been a trend toward increasing demand and popularity for digital art and goods through special marketplaces. Such items are also called non-fungible tokens. If you decide to create a similar platform for selling digital basketball cards or skins for famous computer games, you need NFT website templates. Read what it is and an analysis of the basic concepts below.
At What Stage Should You Think About Purchasing Website Themes for the NFT Marketplace?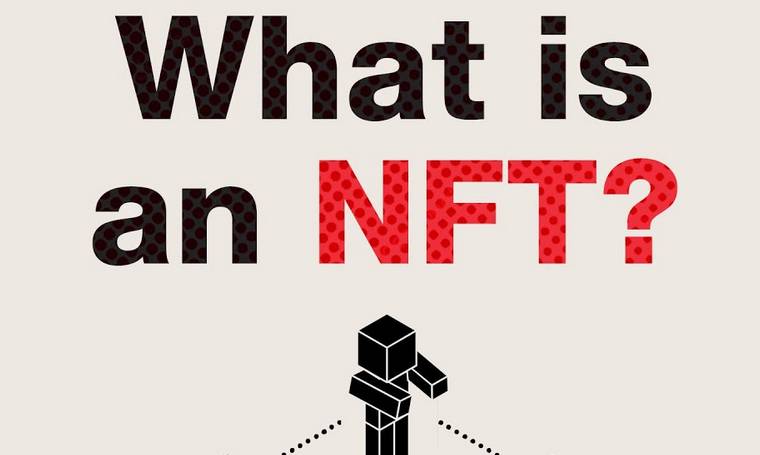 Being a relatively new direction, it's worth considering the main introductory and steps of marketplace creation in more detail.
First of all, note that NFT is a non-fungible token in the blockchain environment. In turn, the blockchain may be conditionally defined as a huge database. You find information about the owners of purchased goods, and resale, and find out the number of buyers in it. It also stores information about all purchases made. This database is stored on many computers that purchase or sell digital goods.
In other words, you are thinking now or already in the process of creating a unique place where visitors, collectors, and passionate people can buy the items they like, and the creators may sell them. The marketplace must meet the following requirements:
Being safe because it is about money.
Convenient for visitors.
Contain offers that are most interesting for buyers.
Be attractive in design since visitors won't be on the site if it looks morally outdated, non-functional.
Several Steps to Build NFT Website
When creating such a platform, you'll go through important stages:
Budgeting. It should include the project development cost and its further promotion.
Defining goals. You can create niche marketplaces where owners trade only highly specialized lots. There is also a multifunctional portal option. As practice shows, highly specialized portals are the best way to start with small budgets.
The model of earnings is determined. This can be commission, subscription, leads, or listing.
Standards in the blockchain. They are different.
Determination of the functions list required for the new site. There are convenient offer filters, a user-friendly interface, integration with cryptocurrency wallets, and more.
Choosing a blockchain platform. The most popular today will be Ethereum, Tezos.
External design. You choose the appearance, primary shade, and other equally important details at this stage. In the future, the liking of the user will depend on them. The project either pleases and inspires confidence among people or not. NFT website templates come to the rescue in this difficult stage. The most interesting selections: for landing pages, WordPress, a complete themes list for cryptocurrency sites, TOP choice with responsive design.
Testing.
Audit.
As you see, the design takes a separate stage almost at the end of the list. Much depends on it. You need to get special time to develop a solution. Fortunately, there are many suggestions for faster results. And the best ones we selected in this review.
Benefits of Using Templates for Non-fungible Tokens
When it comes to creating a new project, the budget issue is always acute. Spending money on new developments, even small layout improvements of the sections, is not always justified. NFT website templates come to the rescue, allowing you to help in several issues at once:
Make the portal user-friendly and customer-oriented.
Create an impressive, stylish, modern appearance.
Choose an appearance that inspires confidence (even the background is important because the psychology of color influences the decision to purchase).
Themes for the non-fungible token portal give you several advantages:
saving the budget (some of the developments cost little);
great uniqueness in comparison with free counterparts;
thoughtful layouts, a whole professional team worked on it;
all the latest trends in the design field;
ease of use;
proposals variety (choose both style and colors);
unlimited possibilities for customization and the creation of a personal style.
Let's look at interesting characteristics and additional features using specific examples.
Best Templates for NFT Websites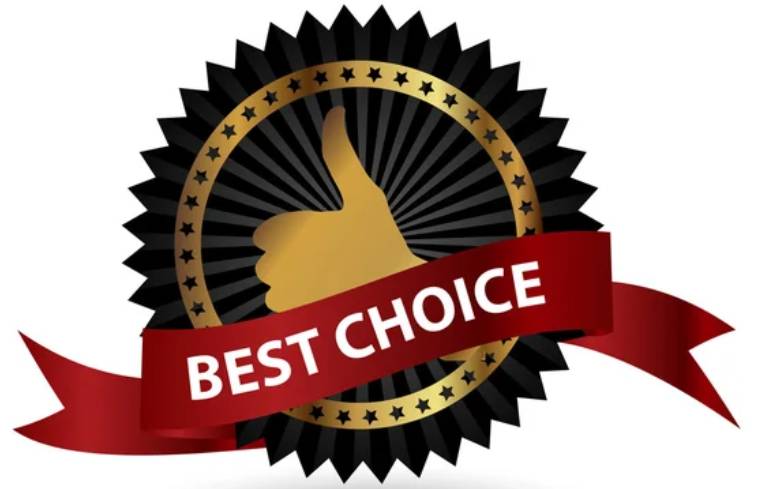 New themes and layouts may appear from time to time. In this selection, you'll see both the most popular options and the ones with the best customer reviews. It'll also feature great development teams with experience building such services.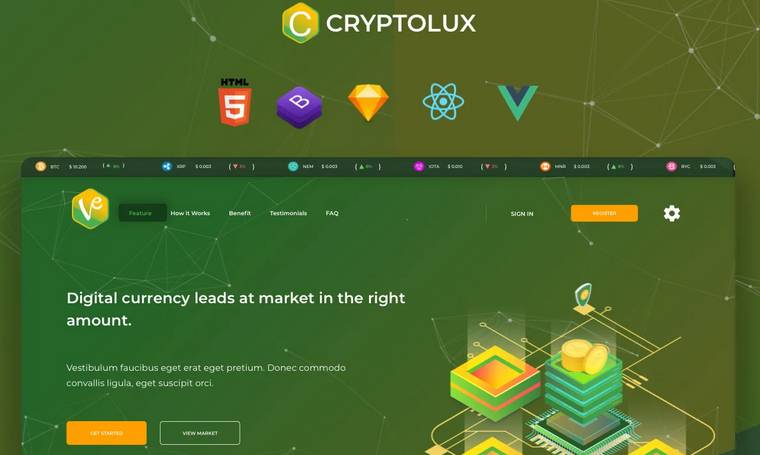 Cryptolux is for any business related to electronic goods and currency. The creators made a stunning design in the original color scheme. It immediately catches the eye. Calm and pleasant to the eye, green shade with moving elements in the background. The advantage is that the product is relatively new. This point means that a limited number of people managed to acquire it. Everything is done stylishly, restrained, but at the same time thought out. The proposal is positioned as suitable for sites in the landing page format.
Among the advantages are the next ones:
Responsive. It perfectly and quickly adapts to the screens of mobile phones, laptops, tablets.
JQuery makes using Javascript nice and easy.
Parallax adds impressive effects to feel the idea's depth and adds volume to the picture.
The ability to animate, if used sparingly, creates a positive viewing experience.
Bootstrap is one of the most popular frameworks around.
Don't forget the impressively low price tag of just $15. While it's still relevant, it's worth taking a closer look at this product.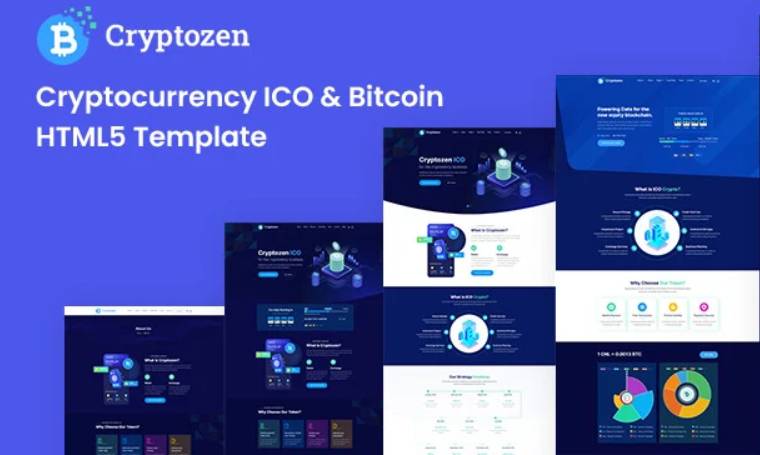 Creators offered the development as suitable for the business development related to the foreign currency market. In a way, the Cryptocurrency and Bitcoin theme is a versatile proposition, easily adaptable, and flexible enough. Upon preliminary consideration of the offer, very valuable options are striking. The demo version has a very attractive appearance. Stylish blue, moving elements, modern components, scrolling to the page-top, drop-down menu – everything you need to present your services spectacularly.
Among the interesting and popular functions of NFT website templates are:
Unique home pages are the face of the company. They should be impressive and perfect.
Clean Code ensures work stability after the release, minimizing the number of new tasks to fix bugs.
100% Responsive. This feature we already mentioned in a previous good. Pay attention. The option is present in each of the proposals in this TOP. Therefore, we won't repeat ourselves. The alternative is responsible for the page's appearance from the screens of different devices. The design should adapt and look the same beautifully from any of them.
Extensive documentation is with the purchase. You need to study the product completely, find out its maximum capabilities, and learn how to use it without much difficulty.
Unlimited shades choice for layouts. This point means you'll be able to make a view in such a way as to combine with the corporate style properly.
A WordPress version is available.
Background video – here, the buyer decides whether he needs it or not, but the ability to add is present.
Parallax, Bootstrap, Google Maps, and Fonts are here too. In addition, the presence of support 24/7. It's free for the first six months of use. The proposal is definitely worth your attention.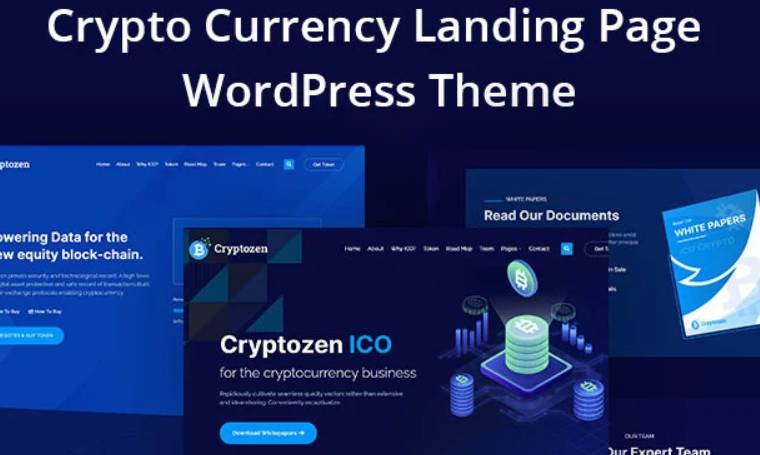 Despite the settings' flexibility, we are watching with a cleaner and more straightforward design in the Demo. It's light and simple at first glance. Nothing distracts from the information you need to present. At the same time, impressive animation is at the top of the home page. It's just a burst of different shades. You can also use this technique when developing your layout version.
Cryptozen WordPress theme has the following characteristics:
Elementor – one of the most coveted plugins among developers. It's popular for its simple admin panel and the easiest way to create pages by dragging and dropping elements onto them.
Responsive as any NFT website templates.
Search engine friendly. Typically at this stage, buyers ask for more details. You'll most likely build the promotion strategy and launch advertising campaigns. The function responds directly and helps to advance in search engines.
Again Bootstrap is present.
Retina Ready – the latest modern technology that helps to display high-resolution images. Some modern smartphones use HD displays. Therefore, it's important to have this option.
Drag and Drop content. Constructing partitions as you need is no longer a problem. You won't need any skills in creating codes either. Hold down the desired component with the computer mouse and drag it to the desired location. Changes are applied immediately.
Support is also offered in any NFT website templates. Please note that all offers in this overview have additional services that buyers can order. These may include product installation and customization, different plugins, support renewals after the free period expires, and a full-service cycle. It's very convenient and saves a lot of time.
Dark, stylish, incredibly stunning design. Icons, buttons, and other important elements stand out against its background. There are a lot of components from which you build full-fledged sections. Cool pop-up details are also present in Cryptoz. As you know, strict shades attract more people with a mathematical mindset and are inclined towards financial analysis. Very suitable for the sale of electronic art, currencies, and valuable digital goods.
In addition, the most important plugins are already in the package. Of course, the developer provides additional installation and configuration services. But thanks to Drag and Drop content combined with Elementor page builder, it's quite possible for a person without such experience to master and make changes to the site.
There are also such features in NFT website templates:
Responsive,
SEO-friendly,
Google Font, and Maps.
We won't dwell on them in detail, as described earlier. There are also helpful additional pages. For example, Blog and 404. Creators also included Demo Dummy content. Everything is thought out and understandable. By the way, there is support too.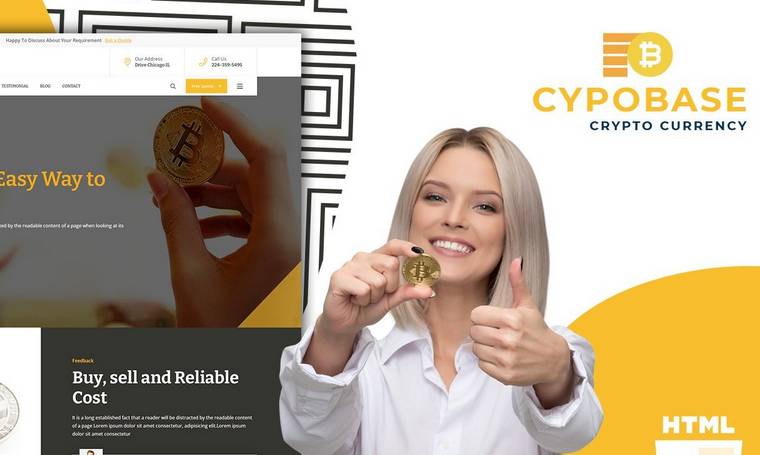 The main proposal positioning is the most suitable for the topic related to Bitcoin. This info readers see even in the Demo version on the uploaded images. Despite this, you easily classify them as NFT website templates due to the layout's flexibility. Warm tones, light background, and simple shapes are on the exterior. This sets it apart from previous options. The price is incredibly low. The features list is impressive. A lot speaks in favor of this purchase. Just look at the benefits:
Continuous support for updates.
Lots of different fonts to choose from.
Attractive icons.
Ability to put video content in the background.
Adaptation for all mobile devices.
SEO-optimized.
Additional pages and components. Popular portfolios, contact forms, team and top management, and price lists are among them.
Online Store / Shop is important in your activity type.
The ideal visualization of all the constituent sections changes the appearance and sets the person up for purchases.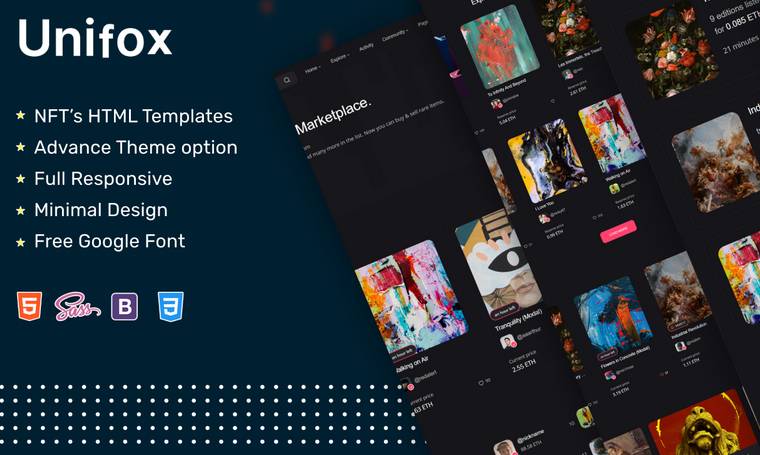 Developers position this service primarily for the scope of their business. Designers created the minimalist design to make the Unifox as impressive as possible. Photos of art objects creators placed in the Demo so that the visitor could see how cool they would look in total lots on a dark background. And this idea works. Vivid tones are more impressive. However, not only photographs and images are relevant in this case. Clothes and items for computer games, collectible cards, exclusive videos will also perfectly fit and are gorgeous.
In addition to the visual effect, the programmers considered all the important technical features of NFT website templates.
The following characteristics are required to work effectively:
Additional sections.
Bright, colorful icons.
Fonts to choose from.
The simplicity of settings.
Large usage documentation.
Friendly support managers.
Full adaptation to all device screens.
Take a closer look at this Unifox. It's an affordable addition.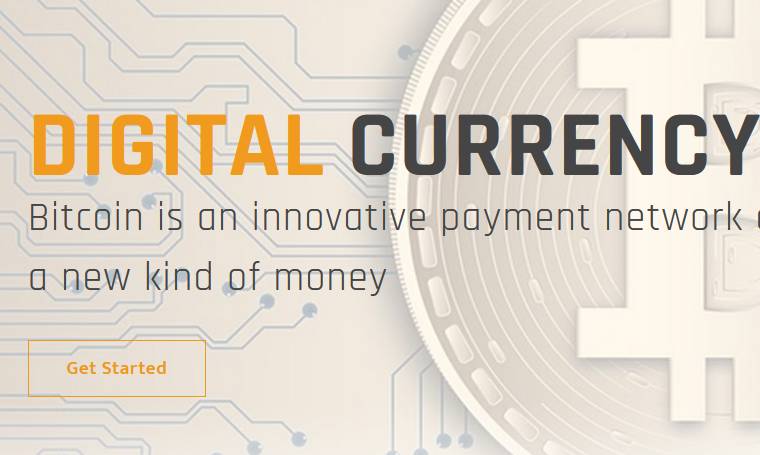 Even though you may see the logos and symbols of Bitcoin on the presentation pictures, the layouts are adaptive. You can change them according to your needs and customize them for your activity area. A built-in store helps along the way. Perhaps, in the number of advantages, the development isn't inferior to the previous ones. A distinctive feature will be minimalism in light tones. The main background is white with some gray areas and small yellow details. Simple and tasteful. Laconicism is Bitco's main strength. Clean lines maintain the basic style. Among the characteristics, there are all the necessary ones. There are support and additional sections to tell useful and interesting things to readers. Thus, you are building long-term relationships with potential audiences.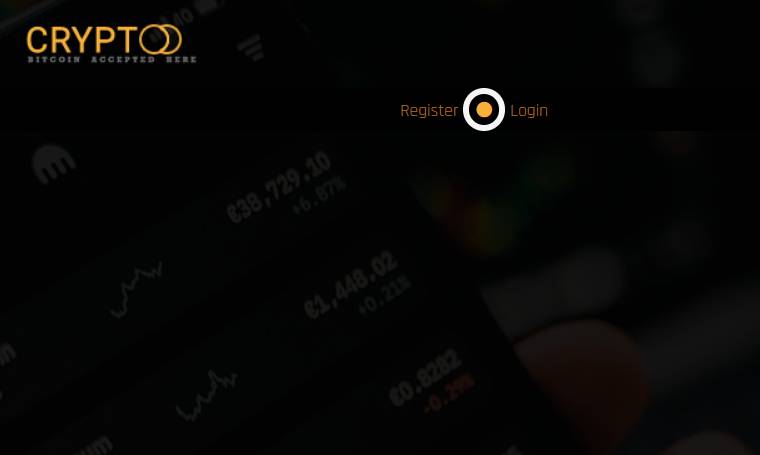 Since the advantages and characteristics are very similar to the previous propositions, we'll focus on the appearance. During the first minutes of viewing, it's impossible not to pay attention to the huge stunning slider. In the Demo, the developers demonstrate a light layout. However, they placed pictures in dark shades in the slider banners. Please note the impression changes when you upload new images with company news or top deals from sellers. Thus, you choose your accent in the color scheme and associate it with corporate identity. The Cryptocurrency blockchain theme is a decent development worth recommending.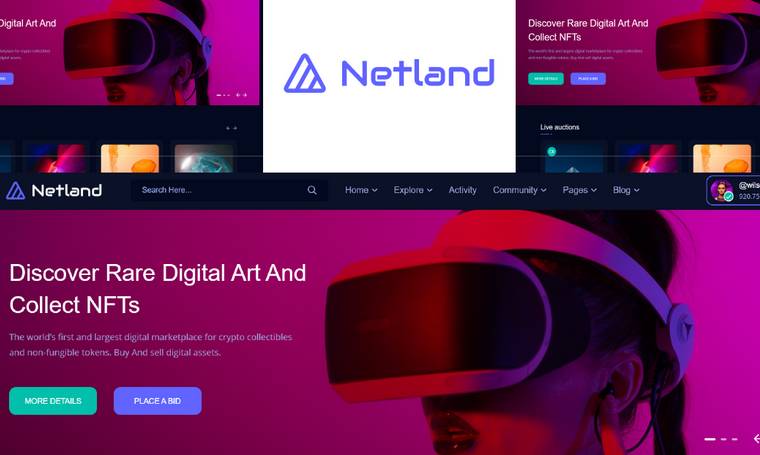 The service is multifunctional and crammed with all possible add-ons. Firstly, it's focused exclusively on non-fungible tokens and their sale. Although, thanks to flexible layouts, buyers adapt them to other themes. Secondly, if you remember the first applicant's approximate appearance, Netland Marketplace is visually very different. There are many areas for placing a lot of visuals. The visitor may see the top offers and the best shopping options on the first page. The development isn't devoid of the technical improvements inherent in past NFT website templates. Among them will be such features:
adaptation to any screen size,
flexible layouts,
clean Code,
integration with social networks,
a beautiful, fashionable menu,
compatibility with different browsers.
These are, of course, not all the advantages. More readers will see by going to the proposal page itself. A wonderful, powerful product.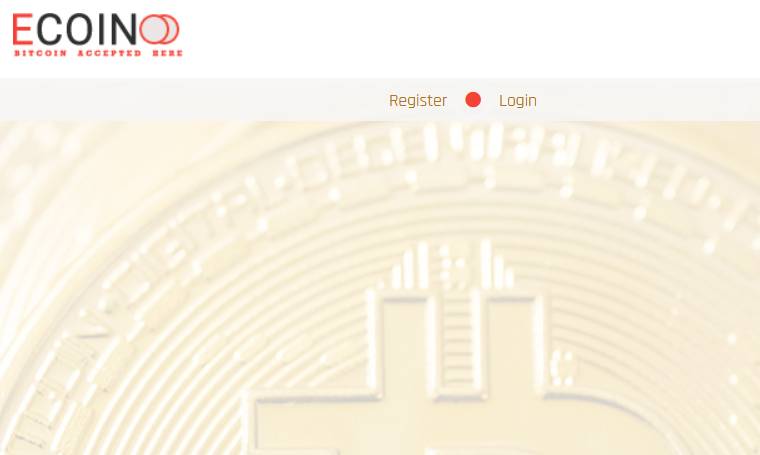 You have already seen something similar in design in our review. White background, gray components, and more active orange accent in layouts. However, the proposals are different. It's necessary to carry out a comparative description not only in terms of decorations. If this option is what you are searching for, open two similar services and compare the characteristics list. Pay attention to the more accented elements in the case of Ecoin. The price with the functions list is amazing. For only $16, buyers receive SEO-optimized which helps promote in search engines, the same additional sections (Gallery, Blog, and others), compatibility with the screens of different phones, cool icons, and necessary visual effects (you can upload videos). A find on low budgets and more.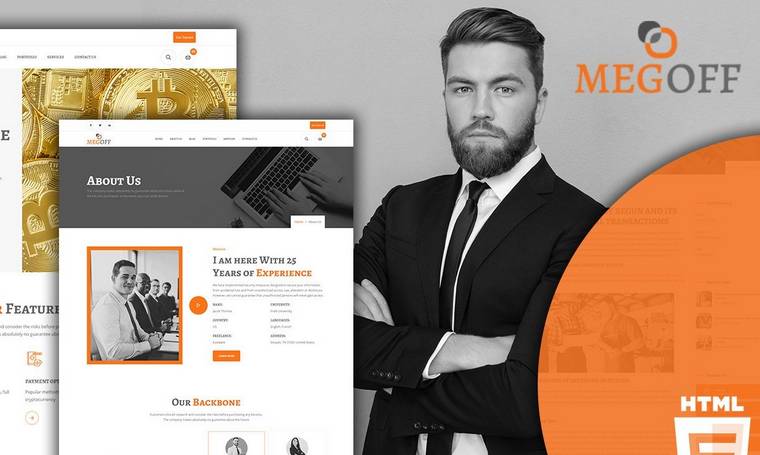 Initially, programmers created a service for promotion in the Bitcoin field. But with the help of simple transformations, it becomes an excellent option for selling non-fungible tokens. There are more bright elements here. Warm shades set up shopping faster. The unlimited customization options are even more appealing since having a universal creation for highly specialized topics is very important. Even if customers change their strategy for items, they can easily rebuild the site.
Please note that a Lazy Load effect allows to speed up page loading. This is because pictures are loaded gradually as you scroll through the section. Hence, the page itself opens faster. Of course, there are all the major technical additions, which we won't repeat ourselves.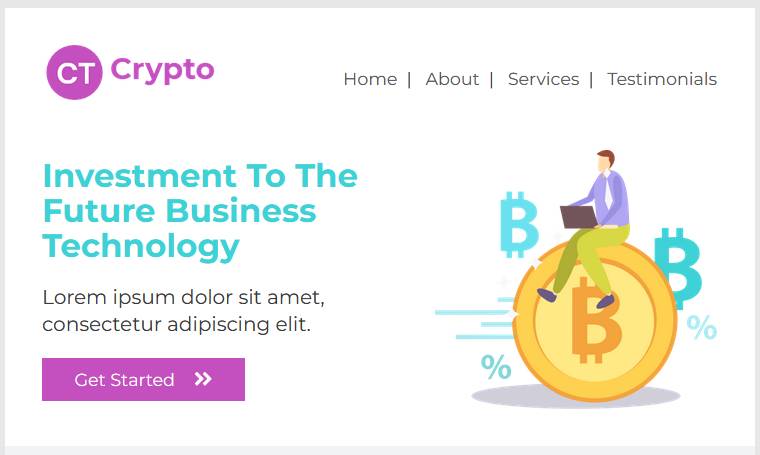 This template differs significantly from the previous items. Its main purpose is to create the perfect email marketing promo. The appearance is quite different. Here you have gray, turquoise, and purple. The development gives the impression of being vibrant, optimistic, unconventional, and incredibly unique. There has never been such a shade selection.
Please read the description carefully, as the product is narrow-profile and more suitable for email newsletters and other important promotion stages. You may need this option among the range of offers in your future marketing strategy.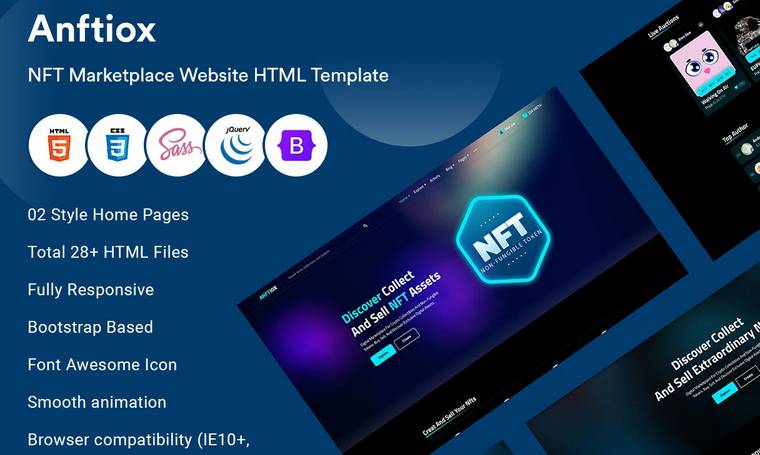 Here's another awesome alternative. The design is interesting. There are a lot of cool animations, flipping slides, and pop-up elements. The appearance is dark with bright details. You even make several slides at once with the flipping of goods in one component. Hence, create categories of offers. Most suitable for the sale of digital art items, photographs, video and audio content, and items for computer games. Very bright neon tones add style and modernity.
Anftiox is suitable and adaptable for different devices and easy to download. It's difficult to describe its beautiful appearance in words. Better to watch the Demo right away. Thanks to its creativity, this proposal got into the TOP offers.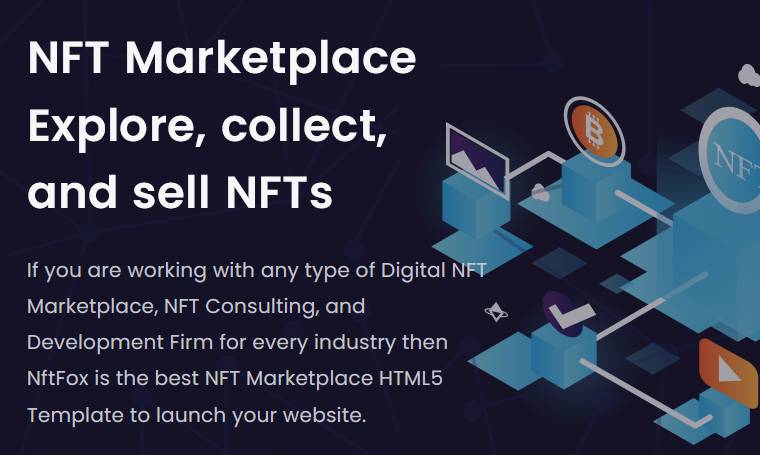 Creative development in terms of colors is very similar to the previous TOP candidate. However, when viewing the Demo, you can immediately notice some differences. More rigorous formulation, fewer sliders, and more compact components where customers buy many offers. In functionality terms, similar to Anftiox. Therefore, one might think that there is no difference. But the differences are visible to the naked eye when previewing.
By the way, please note that absolutely every Demo has the opportunity to see how the future portal will open on the screen of a laptop, smartphone, or tablet. You switch to the desired device at the screen top by clicking on the icon. It's convenient when a promotion company covers all devices and buyers want to know their appearance.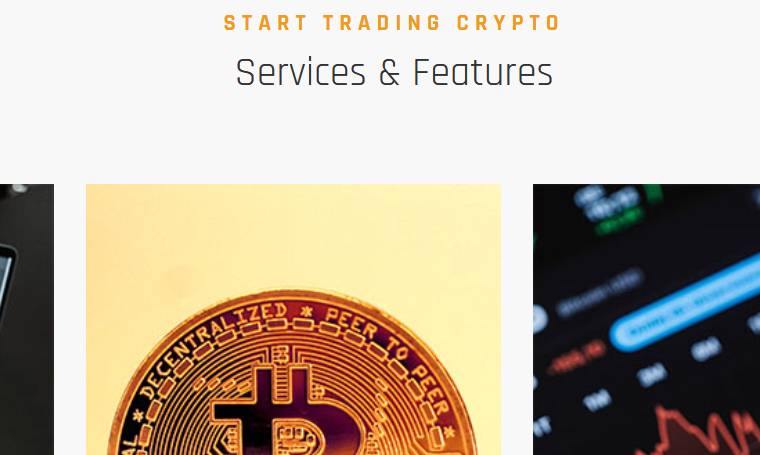 A newer picture of the previously described Ecoin. There are no more bright oranges here. Brown and gold tones replaced them. It looks very similar, but you may choose a suitable appearance for yourself thanks to this feature. After all, it would help if you combined it with corporate symbols, which is important.
Be more creative the moment the site's content is loaded, and then it begins to sparkle even more with added colors.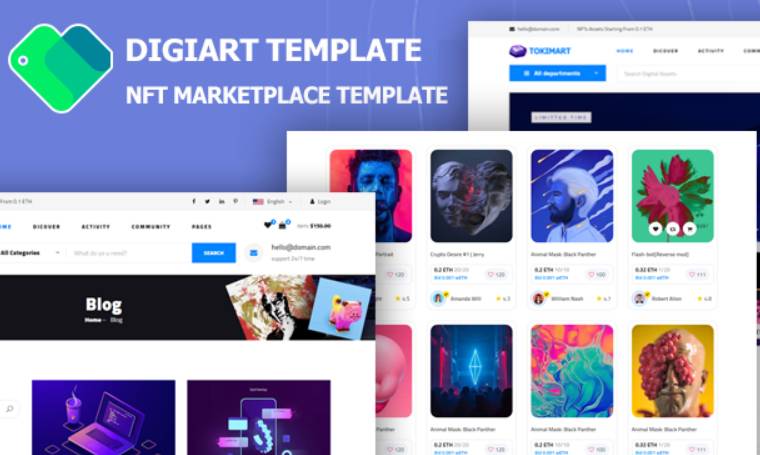 Finally, we want to show a cool design with an original appearance. A more youthful option. Fueled with optimism with great, trendy, eye-catching elements. The built-in online store and the votes necessary for successful work help you sell faster and attract attention.
Such a design is difficult to forget, meaning originality and memorability are guaranteed to customers. Check out the Demo of this awesome NFT site theme.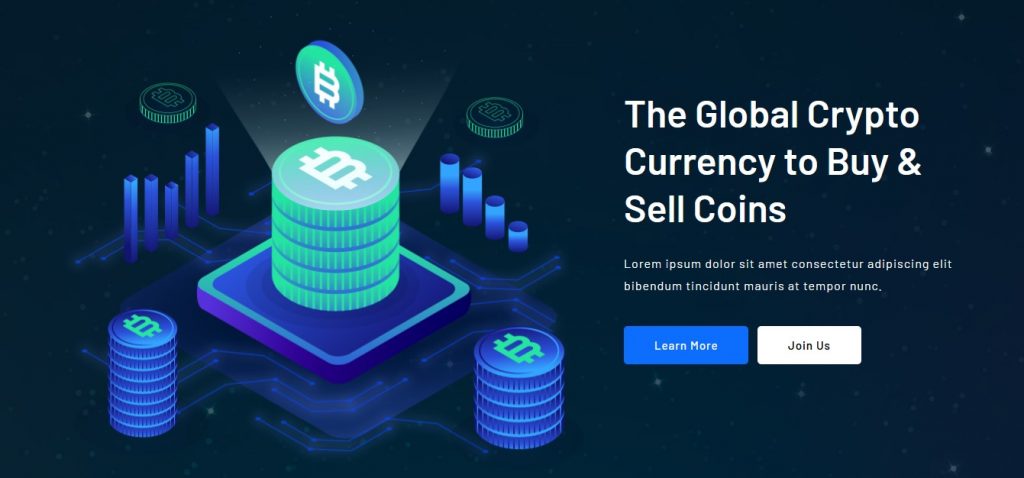 We left the most interesting for last. Catch the absolute novelty and incredibly cool Cryptnity. This product has every chance of becoming a hit because it has important qualities.
Key benefits include:
Design creativity. Just look how the developers have revealed the space topic, which is logically shown for such a seemingly distant financial area.
Lightspeed.
Looks perfect on all devices.
Well documented.
And, of course, you'll find all the important options we previously described in similar layouts. Do you want to be unique? There is a chance to be among the first buyers!
Useful Video for WordPress Site on Non-Fungible Token
With it, you can easily and quickly complete the installation task. Suitable for beginners or people without similar experience.
Conclusions
Drawing conclusions about the need for a new layout, we can say the following – need to buy. One has only to decide on the right and most suitable one. The service should also be similar in style to your activity type's future content and concept. There are several stages in creating a successful business, and the design directly affects the result.
FAQ: NFT Website Templates
What are NFT website templates?
This is a comprehensive solution to improve the appearance of the site.
How to install NFT website templates?
Please use our video instructions or watch useful content on this topic on our YouTube channel. This task is easy and simple, especially when there is expert advice.
How to choose NFT website templates?
The best way is to study the Demo. It gives a complete picture of the future site.
How to customize NFT website templates?
With extensive documentation, which every purchase includes, even beginners are up to the task. The documents contain the most necessary information.